'Urgent action' needed to resolve Britain's mental healthcare crisis
Datetime: 2021-07-06 15:15:31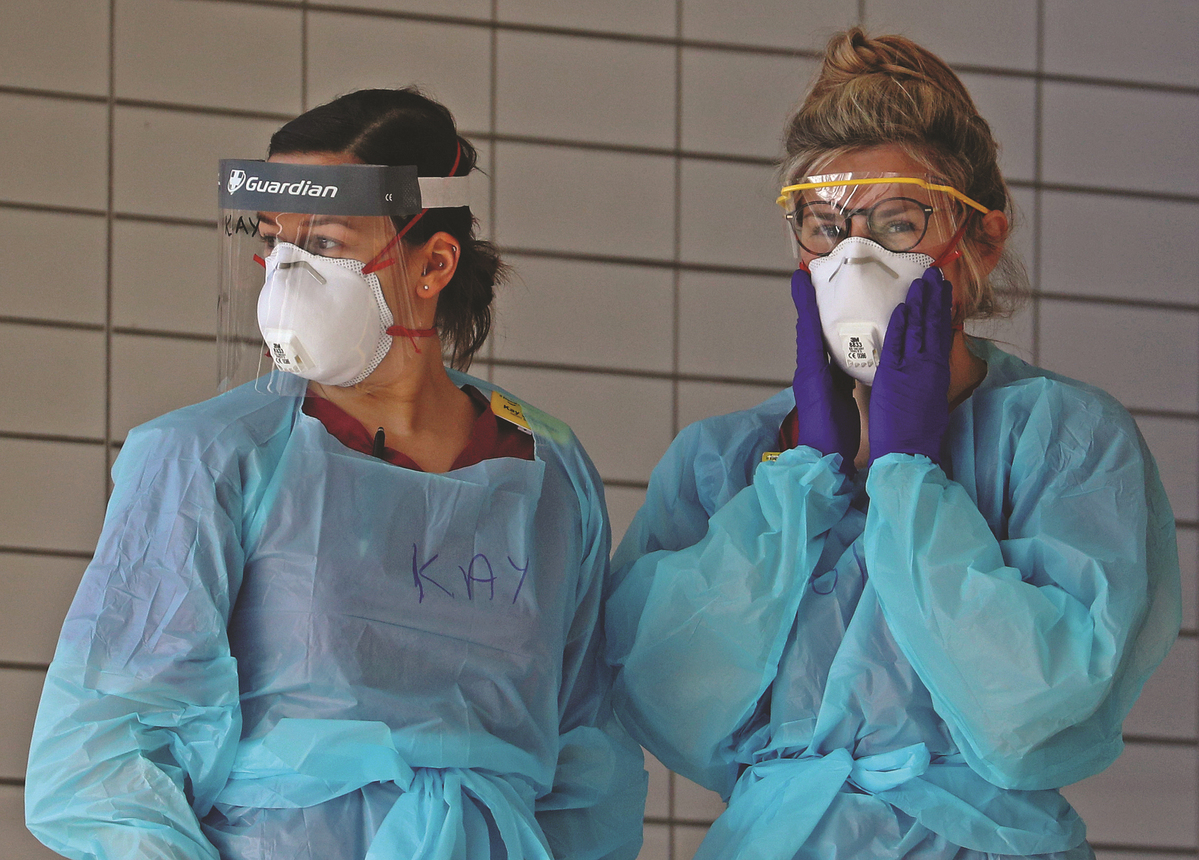 Medical staff members at St Thomas\' Hospital in London wear protective clothing as the fight against the novel coronavirus outbreak continues. [Photo/Agencies]
Government cuts to mental healthcare in the United Kingdom mean people with serious conditions are being forced to wait for potentially life-saving treatment, says Britain\'s opposition Labour Party.
Bed space available in National Health Service, or NHS, mental health hospitals has fallen by 25 percent since 2010, according to analysis of official figures by the party and reported by The Guardian.
It said the latest data shows there are fewer NHS beds available now for people suffering with conditions such as schizophrenia or eating and personality disorders.
There are now just 17,610 "consultant-led" mental health beds, but in 2020-21 the figures show there were 23,447.
The NHS England data reveals that the number of people contacting NHS mental health services increased from 117,000 in January 2016 to 141,000 in March this year.
There has been a rise in demand for psychiatric help in recent years according to experts, who say that the COVID-19 pandemic will lead to a further increase in patients needing urgent treatment.
"These figures are staggering," said Rosena Allin-Khan, the shadow minister for mental health, who studied the data. "With bed availability at dangerous levels owing to cuts, and numbers of patients increasing, there is a perfect storm.
"The cuts to mental health beds have exacerbated waiting times for treatment for some of the most serious mental illnesses. Without beds, people requiring urgent treatment for eating disorders, schizophrenia and personality disorders are likely to face even longer waits," said Allin-Khan, who is a former hospital doctor.
"Conservative governments have said they\'d prioritize mental health-but this evidence shows things are getting worse," she added.
With fewer beds available, there has been a doubling in the number of patients sent on an "out-of-area placement" of more than 300 kilometers from their home, according to the data.
Sending mental health patients far from home was "unacceptable", said Trudi Seneviratne, the registrar of the Royal College of Psychiatrists, who called for urgent action.
"It can have a devastating impact on patients and their loved ones. Treating patients close to home speeds up recovery, reduces the risk of suicide and shortens hospital stays," she told The Guardian.
The government has said it is committed to ending "inappropriate out-of-area placements".
A Department of Health and Social Care spokesperson, quoted by The Guardian, said: "We have published our mental health recovery action plan, backed by 500 million pounds ($692 million), to ensure that we have the right support in place this year for those who need it.
"This is in addition to our commitment to expand and transform mental health services with an additional 2.3 billion pounds a year by 2023-24 and introducing new models of care to give 370,000 adults with serious mental illness greater choice and control over their care, supporting them to live well in their communities." By JONATHAN POWELL in London | China Daily Global |